Top Shelf Thursday: The Tart & the Horsey III
Friday, May 15, 2015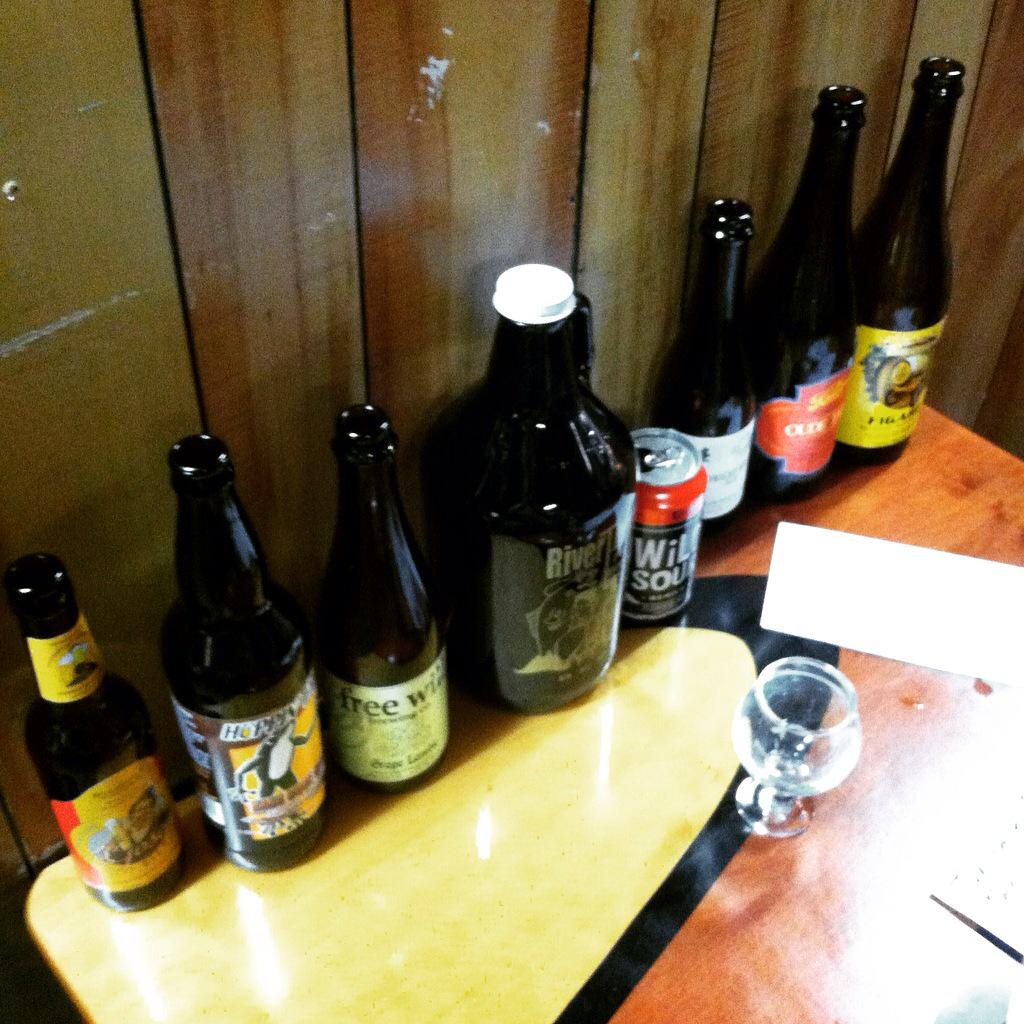 Longevity can be fun. It's enjoyable to see how something changes the longer you do it, how it evolves & takes on new shapes over time. Each year, putting together The Sour & the Funky during Pittsburgh Craft Beer Week, new trends emerge, things morph a little year-to-year; this year saw the first Gosen added to the line-up, as well as more local beers & more beers on draft. So it is with our third "encore" Top Shelf Thursday (unofficially called 'The Tart & Horsey'), held shortly after PCBW to throw out a little more funk for everyone.
The German sours tend to get short shrift compared to the Belgians & American wilds, but that's changing with the waxing popularity of Berliner Weiss, Gose, & other Deutsch obscurities. We kicked off the night with a beer considered the standard-bearer of the Gose style, Bayerischer Bahnhof's Leipziger Gose. This 4.5% beauty was light, effervescent, with a refreshing tartness & zest from the use of coriander, & could easily accompany one on a summer evening. Hoppin' Frog took this esoteric style & imperialized it, ramping the alcohol all the way up to a whopping 6% with its King Gose Home. Named in honor of Lebron James' return to the Cavaliers, this mutant Gose hit home with a more assertive tartness than its German uncle.
There's some controversy about the use of the word 'lambic' outside of the Senne Valley, but luckily that heat doesn't find its way into Free Will's Grape Lambic. Fermented with Free Will's house wild culture, the vinous quality was apparent, & the beer was well-balanced without pulling too hard toward the sour or brett ends of the spectrum.
We were treated to a cool surprise & a first for these Top Shelf Thursday tastings, as not one, but TWO brewers were present to share & discuss the beers they had a hand – or a couple of burly arms – in creating. Rivertowne's brew master, Andrew Maxwell, brought his Yinzer Weiss, a blackberry Berliner Weiss fresh outta the tanks. The beer was sweet & refreshing, with a clear blackberry character & just a kiss of acidity in the finish, ending cool & clean.
Though Belgian in name, Destihl's Flanders Red also had a Germanic twist on it. The traditional sweet-tart interplay was given a novel counterpoint by a strong lactic character, ending in a flavor not too far off from sauer kraut (though more appetizing than that sounds, too). It's cool seeing the rare sour beer in the can, too.
And our second show-&-tell came from Brendan Benson of East End, who poured Brett Hop, a version of their flagship IPA fermented with brettanomyces & lactobacillus. The hops married wonderfully with the "wild" fermentation, emphasizing the beer's floral & lemony aspects.
We stayed in the local vein with Brew Gentlemen's brett-fermented saison, Loose Seal. The dance of tropical fruit notes from the yeast & the New Zealand hops was great – we wanted to cry, but didn't think we could spare the moisture.
Our course got slightly diverted when Perennial's Aria didn't want to pour evenly, so we took it to the west coast with Anderson Valley's Horse Tongue Wheat. I can see where they got the name – this wheat beer was puckeringly sour from a mix of bugs & time spent in wine barrels.
The brett continued to flow with Allagash's Midnight Brett Ale. The recognizably stony, mineral character of the wild yeast was given a unique support in the use of Midnight Wheat malt, offering a comfy, roasty base that bore the brett nicely.
All in attendance braced themselves for the notoriously sour stripe of The Bruery. Oude Tart takes the acidity of a Flanders Red to a whole new level through extensive aging in oak barrels.
And rounding off the evening was Figaro, a two-plus year old sour blonde from Cascade. 12 months in chardonnay barrels, plus another 12 aging on dried white figs & lemon zest equals one complex beer that balanced an assertively vinous, acidic flavor with a twist of fig sweetness that helps ground it.
So we welcomed some firsts to this Tart, Horsey TST: Gose, more area-sourced beers, as well as the company & knowledge of some of our fine local artisans. It's a pleasure to see more new faces, folks finding that the wild world of beer has unexplored nooks & crannies. And, of course, where would we be without our regulars? Thanks to all for joining us on another journey, & hope to see you next time.
Wednesday, November 25, 2015
Sorry to say, but this will be my last blog post for The House. The owners & I have agreed to amicably part ways, & it makes sens...